Last Updated on June 15, 2023 by Louisa
I read a lot of books. Like, A LOT. So I was looking into a subscription service like Kindle Unlimited because I thought it might be more cost-effective.
Kindle Unlimited works like a virtual library card. Each month you pay a small fee and you have unlimited access to Amazon's special library of ebooks, audiobooks, and magazines. Sounds like a good deal, right?
After a couple of weeks of trying it out, I've finally been able to answer the question; is Kindle Unlimited worth it?
The answer largely depends on what kind of reader you are, but for me, it's not. For others, I can see why it would be.
Kindle Unlimited grants you access to over two million titles and you can download several ebooks at a time.
Though this sounds like a dream, there are quite a few pros and cons to a Kindle Unlimited subscription, which I will be highlighting in this comprehensive guide.
Affiliate Disclosure: This post contains affiliate links, which means I may receive a small commission, at no extra cost to you, if you make a purchase through any of these links. 
Kindle Unlimited: Everything You Need to Know
In this guide, I will be covering every logistic about Kindle Unlimited, but first, I know some of you don't have all day and need a quick answer. If you just want a yes or no, take a look at this next section. If you need more information, keep reading!
At A Glance: Is Kindle Unlimited Worth It?
Kindle Unlimited is worth it if: you can read more than three books a month and you enjoy novels by Indie authors. It's also good if you read a lot of magazines or enjoy romance novels.
Kindle Unlimited is not worth it if: you only read novels by bestselling authors and major publishing houses and read less than three books per month.
There are many pros that come with Kindle Unlimited, but if you weigh out all the reasons for and against it, what it ultimately comes down to is for the generic consumer, what you get isn't good enough for the price.
To make it worth the price, you need to buy at least three or four books per month. Unless you're an avid reader, most people won't be able to read that many books in a month.
Kindle Unlimited also has a poor selection of bestselling authors and many of the books I wanted to read were not included.
Amazon Unlimited has 2 million titles, but 1.3 million are Amazon Exclusives. If you're looking for books from large publishers, you won't find many options. If you're a fan of indie authors, then you've got a lot to choose from.
Some people do like discovering unknown authors, and there are many great self published books out there, so this could be considered a pro depending if you like to read new books by self published authors.
How does Kindle Unlimited Work?
Think of Kindle Unlimited as a virtual library. When you visit your library, you can select a few books that interest you, borrow them, and then return them a few weeks later.
This is the same concept with Kindle Unlimited. With the subscription service, you get access to a library of around 2 million books.
You are able to borrow up to 20 books at a time on a Kindle Unlimited subscription for as long as you like. When you have reached 20 and want to borrow more books, you simply remove old books from your library.
The best way to find books on Kindle Unlimited is to first, sign up for an Amazon account, and then go to the Amazon Homepage, select 'Kindle Unlimted' in the search bar, and then scroll down to 'Kindle Unlimited' which will either be under the search bar or in the table of contents on the left.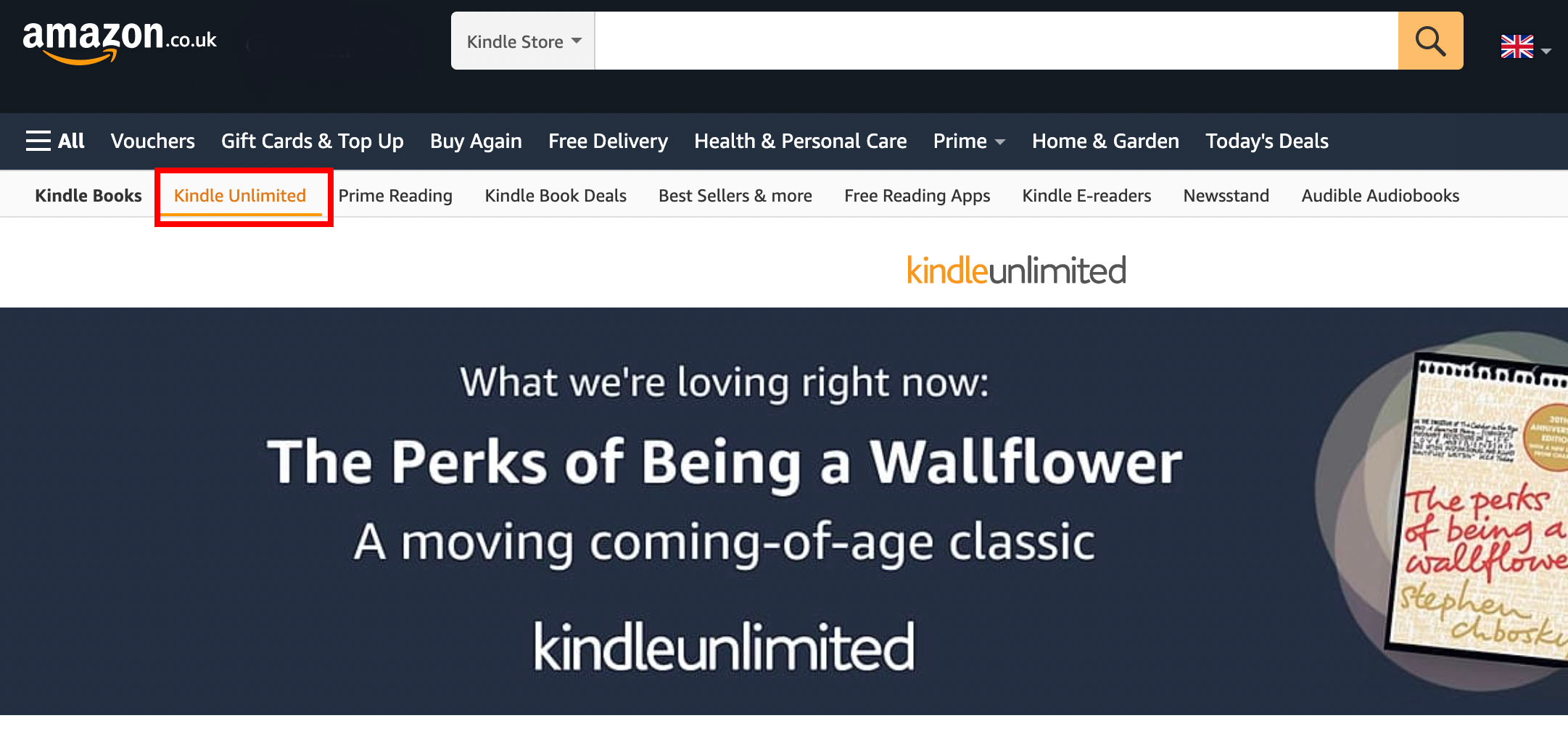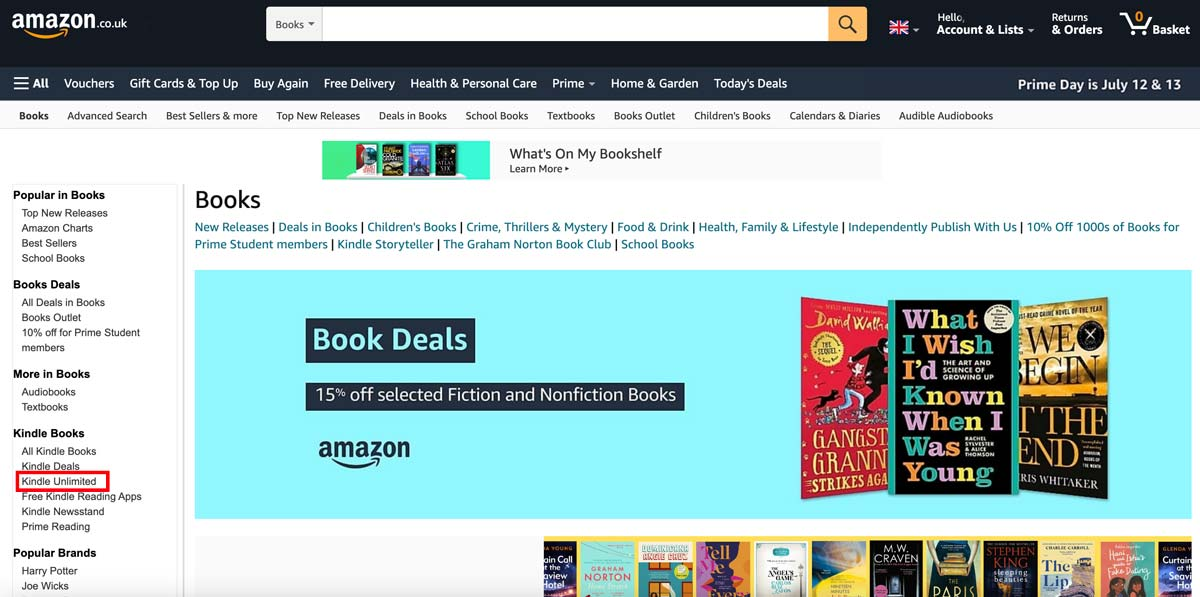 This will take you to the main menu of recommended books based on your previous purchases/download, as well as magazines, and audiobooks. It will also recommend books per genre if you're not looking for a particular title.
If you're looking for a particular title or author, you can search for the author as you normally would and click the button on the left saying 'Kindle Unlimited' to reveal search results.
For example, I wanted to read 'Verity' by Colleen Hoover. When I searched for this and selected the Kindle Unlimited button, the results showed me Verity was not available, but I could choose some other titles that were available.
You can see which books are eligible because it will state 'Kindle Unlimited' next to the price.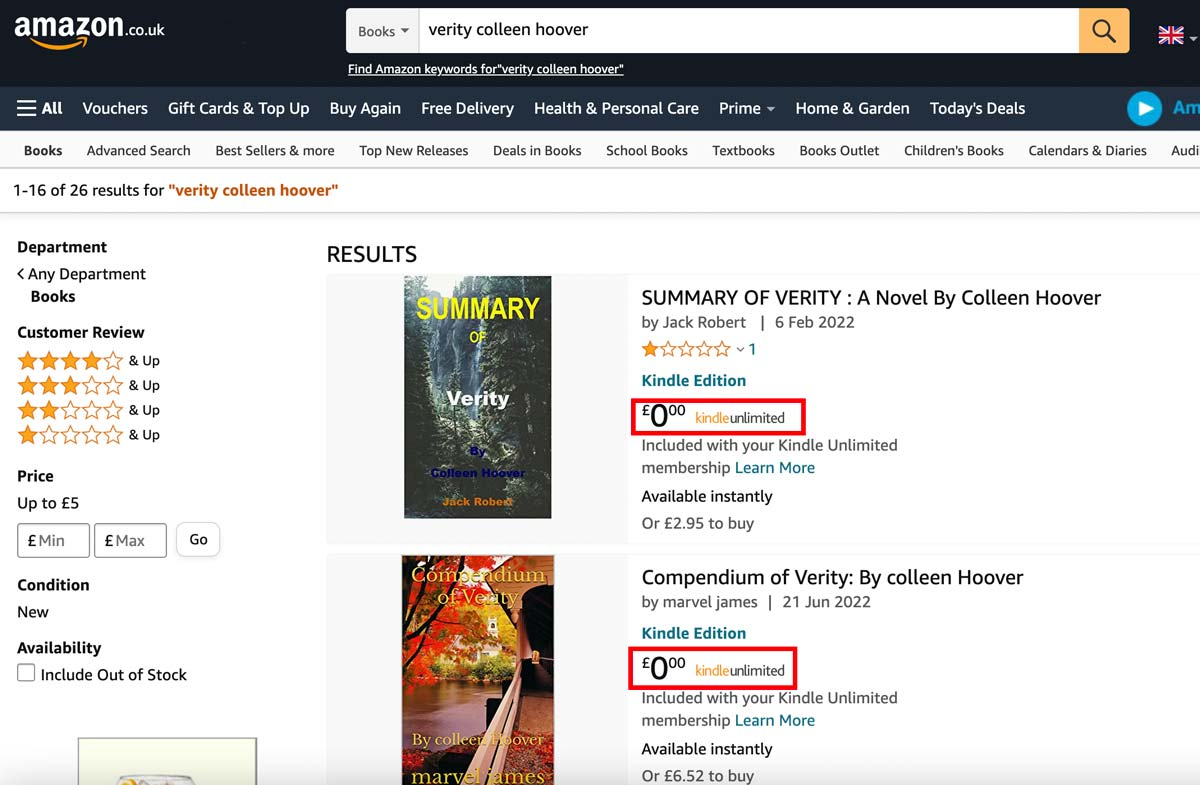 In a last-ditch effort to find a book, I decided to leave my desktop and open the Kindle Store on the Kindle App.
The App showed me basically the same screen as the desktop, and it was just as difficult to browse.
I entered the book title in the 'discover' bar and scrolled through titles. You can see which titles are available on Kindle Unlimited after clicking on the title and it shows 'Kindle Unlimited' under the cover photo.
I found it really clunky trying to find a book that I either knew or wanted to read. Many books on my reading list weren't included on Unlimited, so I found myself endlessly scrolling for some time.
What really helped me find a book I knew, was this list on Goodreads which listed only books by major publishing houses on Kindle Unlimited.
One of the things I like about the Kindle App is that I can sync my Goodreads account. Though sadly, none of the titles in my reading list on Goodreads was available on Unlimited. This was just unfortunate in my case.
How much is Kindle Unlimited?
A Kindle Unlimited subscription costs $9.99 per month. There is a 30 day free trial period and you can cancel any time for free.
Sometimes the free trial period is extended to 2-3 months if you buy a Kindle or subscribe during Prime Day/Black Friday, so it's worth looking out for these deals.
If you decide to cancel after the 30 day free trial, the subscription will end at the end of the month you have paid for. Kindle Unlimited is not free for Prime Members.
Is Kindle Unlimited Really Unlimited?
So Kindle Unlimited is a little bit of an ambiguous term since you are limited by the number of books you can borrow.
With Kindle Unlimited, you are allowed to borrow up to twenty books at a time (it used to be 10, but the limit was increased in September 2021).
Since there are no due dates, you can keep the books for as long as you want, but if you reach the threshold of 20 and want a new book, you will need to remove a book from your library first.
While 20 books might seem like a lot (it's certainly more than most libraries allows you to borrow) it is still a limit.
Magazines do not come under your '20 books' limit, so when it comes to borrowing magazines, these are unlimited.
Kindle Unlimited Vs Prime Reading
One of the biggest questions about Kindle Unlimited is; is Kindle Unlimited better than Prime Reading? Prime Reading is what you get when you sign up for Amazon Prime.
With Amazon Prime, you not only get free delivery on everything you order from Amazon, but you also have Prime Video which gives you access to exclusive TV shows, movies, and more.
With Prime Reader, you have access to approximately 3,000 titles (used to be 1,000 titles when it first launched), including magazines, comics, and audiobooks – these are free for Prime Members only.
It operates similarly to Kindle Unlimited, in that you can borrow up to 10 books at a time and you can keep books in your personal online library. You can borrow them for as long as you like and simply remove them from your library when you want to borrow more.
Many of the titles included on Prime Reading tend to be in the romance genre from my observation, and there are much fewer major publishers using this service.
Another thing I noticed about Prime Reading is the books are more temporary and titles get changed often. However, once you have selected a book to read you can borrow it for as long as you want.
If you're someone who needs variety, Prime Reading might be better for you as the content library is more frequently updated.
These are some of the top-rated ebooks available on Prime Reading (as of January 2023):
This Place of Wonder by Barbara O'Neal
The Highland Fling by Meghan Quinn
Ruthless Creatures by J.T. Geissinger
The Wife Before by Shanora Williams
This Is How We Do It: A Pep Talk by Kevin Hart
Appetite for Innocence by Lucinda Berry
King of Battle and Blood by Scarlett St. Clair
Master Your Emotions by Thibaut Meurisse and Kerry J Donovan
I See You by Mary Burton
The Hive by Gregg Olsen
Below are the key specifications for Kindle Unlimited vs Prime Reading:
| | Amazon Prime | Kindle Unlimited |
| --- | --- | --- |
| Cost (per month) | $14.99 | $9.99 |
| Number of Titles | 3,000 | 2 million |
| Can I use it offline? (without Wifi) | No | No |
| Number of available titles at a time | 10 | 20 |
| Compatible Devices | All Kindle Devices and Kindle App | All Kindle Devices and Kindle App |
| Able to keep titles after cancellation? | No | No |
| Other features | Amazon Prime, Prime Video | None |
If you have an Amazon Prime membership, unfortunately, you still have to pay for Kindle Unlimited separately.
What Books Are Included in Kindle Unlimited?
Most Kindle Unlimited books are by Indie or new authors, but if you want to read ebooks by major publishers such as Penguin Random House, then you have a few books available.
Here are ten of the most well-known, bestselling titles available as Kindle Unlimited books (as of January 2023):
Harry Potter and the Philosopher's Stone by J.K. Rowling
The Selection by Kiera Cass
Hide (Detective Harriet Foster Book 1) by Tracy Clark
Five Winters by Kitty Johnson
The Hidden Secrets of Bumblebee Cottage (Love Heart Lane) by Christie Barlow
Dash Diet Cookbook by Janet McKenzie
The Perks of Being a Wallflower by Stephen Chbosky
Life of Pi by Yann Martel
How to talk to anyone effectively by Daniel J. Bellow
There's a Snake in My School by David Walliams and Tony Ross
When searching through the 'top-rated Amazon originals' I found that most of the titles on Kindle Unlimited were in the romance genres. Authors such as Colleen Hoover and T L Swan have a few titles available, and most of the other titles I came across seemed to have a romance element.
If you love romance novels, then it might be worth signing up for Kindle Unlimited books.
What Audiobooks Are Included in Kindle Unlimited?
When looking for audiobooks on Kindle Unlimited, you have a slightly limited choice. There are just 2,000 audiobooks on Kindle Unlimited, operated by Kindle's Audible library.
If you enjoy thrillers and horror audiobooks, then Kindle Unlimited is worth trying as a vast majority of the audiobooks appear to be in this genre.
These are some of the top-rated books with narration on Kindle Unlimited (as of January 2023).
Down Among The Dead by Damien Boyd
No Place to Run by Mark Edwards
The Thing About Claire by Imogen Clark
The Beekeeper's Promise by Fiona Valpy
Say Her Name by Dreda Say Mitchell and Ryan Carter
The House Guest by Mark Edwards
To Love and Be Loved by Amanda Prowse
The Brighter the Light by Mary Ellen Taylor
I Am Watching You by Teresa Driscoll
The Keeper of Happy Endings by Barbara Davis
You can view more audiobooks on Kindle Unlimited by browsing through the Amazon Library here.
Read more: Is Audible worth it?
What other alternatives are out there?
If the idea of a subscription service appeals to you, fortunately, there are plenty of alternatives out there that are not Prime Reading or Kindle Unlimited. Here are some other top-rated options:
Bookmate
Bookmate has a similar offering to Kindle Unlimited but has more major publishers, notably HarperCollins or Bloomsbury. What makes this alternative great is that you can connect with your friends and see what they are reading. You can also find books by searching through categories, such as 'Editor's Choice', 'Popular Books', and by publisher.
Bookmate is available as an App on Android and IOS and has 1.8 million books. It costs $9.99 per month or $99.99 per year. You can see the library before subscribing to see if it's right for you.
Scribd
Again, if you are looking for major titles and bestsellers, then Scribd is a great alternative. Most of the books on Scribd are new releases, and there are over one million books. It also comes with unlimited audiobooks, as well as magazines, documents, and sheet music.
Scribd costs $9.99 per month and you can only download three books a month, which might not be ideal for avid readers. However, there's a 39 day free trial period.
Epic Books!
If you have a child, then Epic Books is a great reading app. It has 40,000 books available and some of them have read-aloud options too.
This is also a great app for educators since there are discounts for schools and you can set up classrooms and assign reading challenges to students. Epic Books is just $7.99 per month.
The Fussy Librarian
The Fussy Librarian is a free book recommendation website that runs like an email subscription service. Each day, they send out recommendations for FREE Kindle books and ebooks in a variety of different genres.
Since it's free to sign up for the newsletter, it's a great resource for readers who are stuck for inspiration. And you can cancel any time if it becomes too much.
ComiXology Unlimited
If you just want to read comic books, then ComiXology is for you. It has 25,000 comics and graphic novels in a variety of styles, from manga to Marvel, DC, and Dark Horse. It costs just $5.99 per month and you also get exclusive packages and discounts.
Marvel Unlimited
If you just want to read marvel comics, Marvel Unlimited has 29,000 comics and costs just $9.99 per month. It has a 7 day free trial.
24symbols
If you like independent authors and self published books, then 24symbols is the best option. It doesn't have much in the way of bestsellers, but it is the cheapest subscription service out there at just $8.99 per month. There is no free trial but it's free to cancel any time.
OverDrive
If you live in the United States, then you might consider OverDrive. The best news is it's completely free, you just need to register using your library card. There are over a million titles and you can search titles based on your local library.
Pros and Cons: Is Kindle Unlimited Worth It?
So I've mentioned many pros and cons throughout this article, so let's make it simple and break the pros and cons down into a helpful table.
Here are what I consider to be the pros and cons of Kindle Unlimited.
| Pros | Cons |
| --- | --- |
| Over 2 million titles to choose from, including audiobooks and magazines | It's expensive |
| Great for quick readers who read 3 or more books a month | You cannot keep the titles if you decide to leave |
| No need to buy a Kindle Reader, you can use the Kindle App on your mobile device | You cannot use it without WiFi/Data |
| You can have access to 20 books at a time | Not a great variety of titles to choose from – maybe your favourite author is not part of the subscription |
What do other users say?
If you're still not sure if a Kindle Unlimited is right for you, then here are what other readers out there say about it:
"I think it really depends on what kind of books you like to read. Last year I read a lot of fantasy romance, which there's a ton of on Kindle unlimited. This year I've been reading a ton of litrpg, which there is also a ton of. Outside of those two genres though, there's not a lot of other books I'd want to read."

Brittany Goodling
"It's worth it to me! I don't have the space or money for physical books so Kindle unlimited is perfect! I'm never not reading something!"

Alyssa Scarbrough
"It works for me. I am on a limited income so I read a lot of the "free" books that authors do once in a while. When I love the free book, I go and read the rest of the series on KU. I read a lot so I can go through a 10 book series in a couple of weeks. I could never afford to pay for 9 books in 2 weeks so the small fee for KU works great."

Lora Jones
FAQS About Kindle Unlimited
Here is what people usually ask us about the Kindle Unlimited Subscription Service…
The Verdict
For the avid reader, Kindle Unlimited is worth trying out but you may find yourself frustrated trying to find major titles.
If you love indie authors or romance novels, you have an abundance of self published books from new authors to choose from.
One of the main reasons I would subscribe to Kindle Unlimited is for the audiobooks and magazines.
Since it has many popular magazines such as Men's Health, Closer, Women's Weekly, and Good Housekeeping, you can actually save money on buying magazines if you use Kindle Unlimited instead.
If you like thriller and horror audiobooks, then a Kindle Unlimited subscription opens you to a huge array of titles.
Of course, not all books with audible narration are thrillers but there is a wide selection. Again, you may find yourself frustrated with finding major titles.
In short, if you read less than three books a month, Kindle Unlimited is not worth it for the price, but for avid readers, it's definitely worth it.
If you're still not sure about whether Kindle Unlimited is right for you, then don't worry, you can take out a 30 day free trial and try it out.
If you buy a Kindle device, you can usually get Kindle Unlimited for free for 3 months. It's also worth looking for Prime Day and Black Friday deals.
Like this post? Don't forget to save it on Pinterest!